Wheatgrass Tablets
Wheatgrass is considered a superfood with nature's own combination of natural nutrients.
Benefits: Wheatgrass helps maintain normal health function during times of stress, as well as maintaining overall health and well being.*
Contains the natural nutrient profile found in the whole wheatgrass plant.
Naturally abundant in nutrients that help maintain cellular integrity, maintain normal function during times of stress, and help with premature aging.
With very low toxicity and high levels of vitamins, wheatgrass has been a choice for those looking to increase their intake of essential phytonutrients through a natural supplement.
Active Ingredients
Wheatgrass (Triticum aestivum L.)
* These statements have not been evaluated by the FDA. This product is not intended to diagnose, treat, cure or prevent any disease.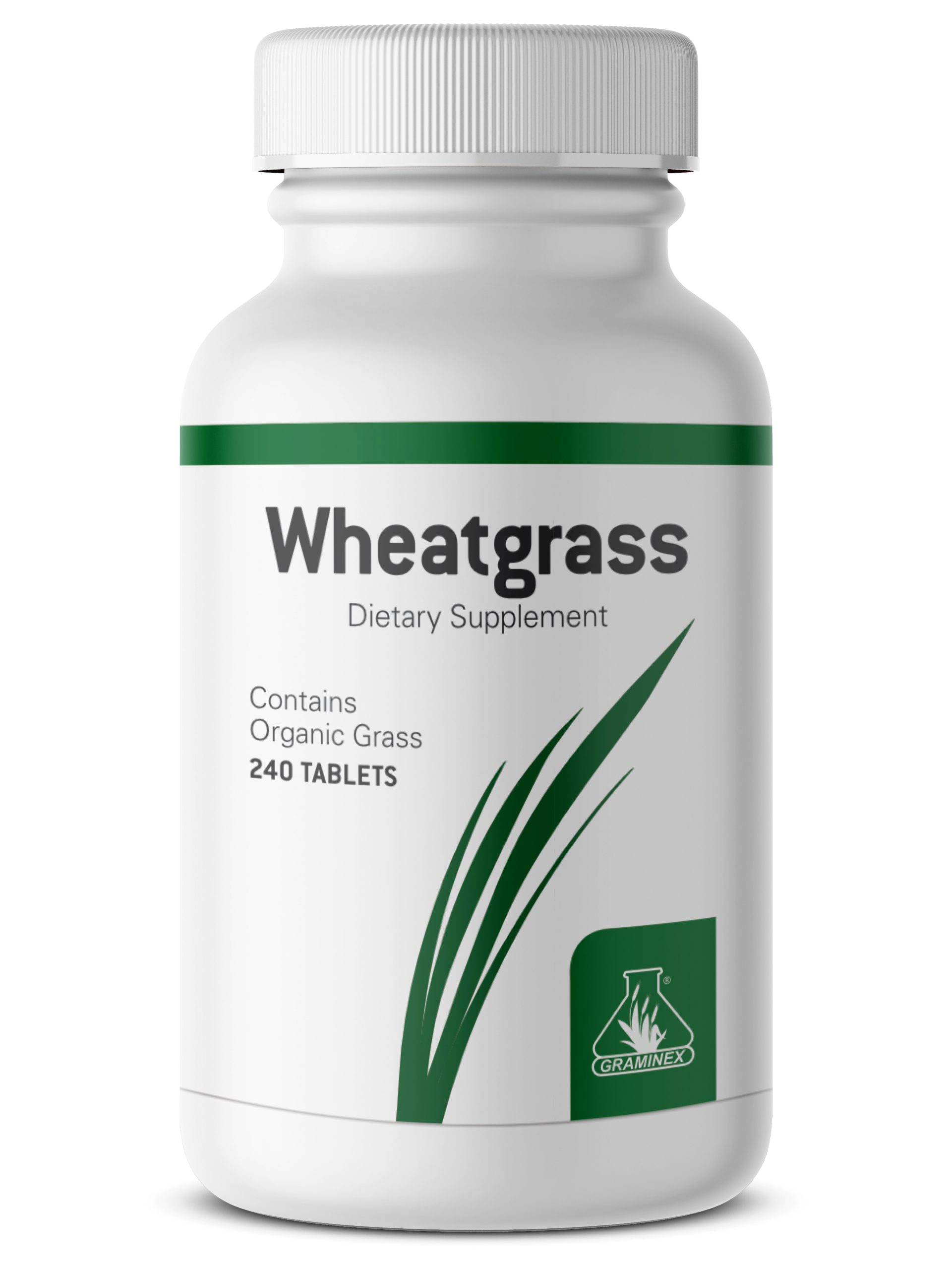 Array ( [is_default] => 1 [image] => Array ( [ID] => 63803 [id] => 63803 [title] => Wheatgrass 240 Front 2MB [filename] => Wheatgrass-mockup-center-3000-scaled.jpg [filesize] => 200746 [url] => https://graminex.com/wp-content/uploads/2020/07/Wheatgrass-mockup-center-3000-scaled.jpg [link] => https://graminex.com/product_details/wheatgrass/smarty-mockup-45/ [alt] => Wheatgrass 240 Front 2MB [author] => 3 [description] => Wheatgrass 240 Front 2MB [caption] => [name] => smarty-mockup-45 [status] => inherit [uploaded_to] => 87 [date] => 2020-07-07 18:10:51 [modified] => 2020-08-10 16:52:00 [menu_order] => 0 [mime_type] => image/jpeg [type] => image [subtype] => jpeg [icon] => https://graminex.com/wp-includes/images/media/default.png [width] => 1920 [height] => 2560 [sizes] => Array ( [thumbnail] => https://graminex.com/wp-content/uploads/2020/07/Wheatgrass-mockup-center-3000-150x150.jpg [thumbnail-width] => 150 [thumbnail-height] => 150 [medium] => https://graminex.com/wp-content/uploads/2020/07/Wheatgrass-mockup-center-3000-225x300.jpg [medium-width] => 225 [medium-height] => 300 [medium_large] => https://graminex.com/wp-content/uploads/2020/07/Wheatgrass-mockup-center-3000-768x1024.jpg [medium_large-width] => 768 [medium_large-height] => 1024 [large] => https://graminex.com/wp-content/uploads/2020/07/Wheatgrass-mockup-center-3000-768x1024.jpg [large-width] => 768 [large-height] => 1024 [1536x1536] => https://graminex.com/wp-content/uploads/2020/07/Wheatgrass-mockup-center-3000-1152x1536.jpg [1536x1536-width] => 1152 [1536x1536-height] => 1536 [2048x2048] => https://graminex.com/wp-content/uploads/2020/07/Wheatgrass-mockup-center-3000-1536x2048.jpg [2048x2048-width] => 1536 [2048x2048-height] => 2048 [small-square] => https://graminex.com/wp-content/uploads/2020/07/Wheatgrass-mockup-center-3000-800x800.jpg [small-square-width] => 800 [small-square-height] => 800 [news-landscape] => https://graminex.com/wp-content/uploads/2020/07/Wheatgrass-mockup-center-3000-960x350.jpg [news-landscape-width] => 960 [news-landscape-height] => 350 ) ) )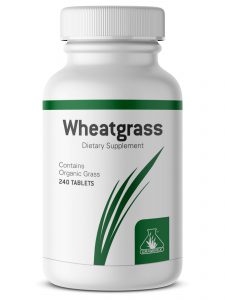 Array ( [is_default] => [image] => Array ( [ID] => 63807 [id] => 63807 [title] => Wheatgrass 240 Facts 2MB [filename] => Wheatgrass-mockup-right-3000-scaled.jpg [filesize] => 217480 [url] => https://graminex.com/wp-content/uploads/2020/07/Wheatgrass-mockup-right-3000-scaled.jpg [link] => https://graminex.com/product_details/wheatgrass/smarty-mockup-49/ [alt] => Wheatgrass 240 Facts 2MB [author] => 3 [description] => Wheatgrass 240 Facts 2MB [caption] => [name] => smarty-mockup-49 [status] => inherit [uploaded_to] => 87 [date] => 2020-07-07 18:11:01 [modified] => 2020-08-10 16:52:00 [menu_order] => 0 [mime_type] => image/jpeg [type] => image [subtype] => jpeg [icon] => https://graminex.com/wp-includes/images/media/default.png [width] => 1920 [height] => 2560 [sizes] => Array ( [thumbnail] => https://graminex.com/wp-content/uploads/2020/07/Wheatgrass-mockup-right-3000-150x150.jpg [thumbnail-width] => 150 [thumbnail-height] => 150 [medium] => https://graminex.com/wp-content/uploads/2020/07/Wheatgrass-mockup-right-3000-225x300.jpg [medium-width] => 225 [medium-height] => 300 [medium_large] => https://graminex.com/wp-content/uploads/2020/07/Wheatgrass-mockup-right-3000-768x1024.jpg [medium_large-width] => 768 [medium_large-height] => 1024 [large] => https://graminex.com/wp-content/uploads/2020/07/Wheatgrass-mockup-right-3000-768x1024.jpg [large-width] => 768 [large-height] => 1024 [1536x1536] => https://graminex.com/wp-content/uploads/2020/07/Wheatgrass-mockup-right-3000-1152x1536.jpg [1536x1536-width] => 1152 [1536x1536-height] => 1536 [2048x2048] => https://graminex.com/wp-content/uploads/2020/07/Wheatgrass-mockup-right-3000-1536x2048.jpg [2048x2048-width] => 1536 [2048x2048-height] => 2048 [small-square] => https://graminex.com/wp-content/uploads/2020/07/Wheatgrass-mockup-right-3000-800x800.jpg [small-square-width] => 800 [small-square-height] => 800 [news-landscape] => https://graminex.com/wp-content/uploads/2020/07/Wheatgrass-mockup-right-3000-960x350.jpg [news-landscape-width] => 960 [news-landscape-height] => 350 ) ) )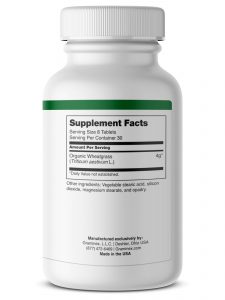 Array ( [is_default] => [image] => Array ( [ID] => 63805 [id] => 63805 [title] => Wheatgrass 240 Use 2MB [filename] => Wheatgrass-mockup-left-3000-scaled.jpg [filesize] => 230625 [url] => https://graminex.com/wp-content/uploads/2020/07/Wheatgrass-mockup-left-3000-scaled.jpg [link] => https://graminex.com/product_details/wheatgrass/smarty-mockup-47/ [alt] => Wheatgrass 240 Use 2MB [author] => 3 [description] => Wheatgrass 240 Use 2MB [caption] => [name] => smarty-mockup-47 [status] => inherit [uploaded_to] => 87 [date] => 2020-07-07 18:10:56 [modified] => 2020-08-10 16:52:00 [menu_order] => 0 [mime_type] => image/jpeg [type] => image [subtype] => jpeg [icon] => https://graminex.com/wp-includes/images/media/default.png [width] => 1920 [height] => 2560 [sizes] => Array ( [thumbnail] => https://graminex.com/wp-content/uploads/2020/07/Wheatgrass-mockup-left-3000-150x150.jpg [thumbnail-width] => 150 [thumbnail-height] => 150 [medium] => https://graminex.com/wp-content/uploads/2020/07/Wheatgrass-mockup-left-3000-225x300.jpg [medium-width] => 225 [medium-height] => 300 [medium_large] => https://graminex.com/wp-content/uploads/2020/07/Wheatgrass-mockup-left-3000-768x1024.jpg [medium_large-width] => 768 [medium_large-height] => 1024 [large] => https://graminex.com/wp-content/uploads/2020/07/Wheatgrass-mockup-left-3000-768x1024.jpg [large-width] => 768 [large-height] => 1024 [1536x1536] => https://graminex.com/wp-content/uploads/2020/07/Wheatgrass-mockup-left-3000-1152x1536.jpg [1536x1536-width] => 1152 [1536x1536-height] => 1536 [2048x2048] => https://graminex.com/wp-content/uploads/2020/07/Wheatgrass-mockup-left-3000-1536x2048.jpg [2048x2048-width] => 1536 [2048x2048-height] => 2048 [small-square] => https://graminex.com/wp-content/uploads/2020/07/Wheatgrass-mockup-left-3000-800x800.jpg [small-square-width] => 800 [small-square-height] => 800 [news-landscape] => https://graminex.com/wp-content/uploads/2020/07/Wheatgrass-mockup-left-3000-960x350.jpg [news-landscape-width] => 960 [news-landscape-height] => 350 ) ) )