An Update from Graminex on COVID-19 Response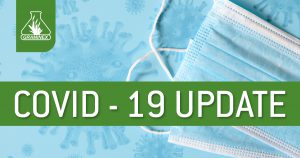 Dear Graminex Friends, Customers & Partners:
As our country and the world responds to the coronavirus, Graminex would like to express its deep concern for all who are affected by this pandemic. We assure you that we take the health and well-being of our customers, partners and employees very seriously. As an organization, we are taking every step possible to help reduce any potential spread of the virus.
To help prevent the spread of COVID-19, we are practicing social distancing. We have taken proper measures in our facilities to protect and care for those who work with us, our customers, partners and the public. Changes we have made to protect health and safety include, but are not limited to:
Strictly following the guidelines provided by the Center for Disease Control and Prevention, the World Health Organization, and other city, state and federal agencies.
Continuously monitoring the situation and developments closely.
All nonessential meetings have been postponed or adapted for virtual meetings.
Customers can continue to connect with our team through our sales and service representatives as well as the messaging functions on our social media channels and website.
Placed a temporary travel ban for all employees.
Facility visitation is limited to 'essential' appointments and staff.
Keeping our employees informed and enforcing the use of proper methods for handwashing, sanitizing work surfaces and workspaces; and providing ample sanitizer for employee use at our production facilities.
Encouraging social distancing and proper covering of sneezing and coughing.
Asking employees who feel sick to self-report if they feel or become aware that they have symptoms and/or the coronavirus.
These past weeks have been filled with many unknowns. We know many of you are facing disruptions as changes are made to contain the spread of COVID-19. Graminex business is considered essential, and therefore continue to operate and our service remains uninterrupted.
While we are all trying to cope with the disruptions of this healthcare crisis, be assured that Graminex is ready and able to handle requests worldwide at this time. Please don't hesitate to contact us directly for any assistance you require. Client and partner needs remain a priority to us!
We are all in this together, doing our best to keep our communities and loved ones safe. At Graminex, we will continue to adapt and navigate holding the strictest safety standards during these extraordinary times. We will also continue to monitor the COVID-19 situation and follow guidance from public health officials and government agencies, so we can continue to fully support our customers and their projects.
We look forward to connecting with you remotely in the coming days.
For more information and regular updates, please visit Graminex.com or stay connected with us via Facebook.
Sincerely,
Heather May
Chief Operating Officer Graminex
Graminex Manufacturing Contact Hours:
Monday – 7:00 A.M. – 5:30 P.M.
Tuesday – 7:00 A.M. – 5:30 P.M.
Wednesday – 7:00 A.M. – 5:30 P.M.
Thursday – 7:00 A.M. – 5:30 P.M.
Friday – Closed
Saturday – Closed
Sunday – Closed